Sep 19, 2019
Thank you for joining us to say goodbye to Hieron....
From beginning...
...to end!!
It's been quite a journey and we had a great time capping it off by answering some of your questions! We had such a wonderful outpouring of support and love the past week and it really means the most to us! We love doing this and we love that people enjoy listening to it.
Over the next weeks, the friends behind Friends at the Table are going to take a short break before starting our sixth season: PARTIZAN, a story of war, politics, faith, and (yes) giant mechs. You can hear the trailer in this episode or by itself, right here, and you can check out the game we'll be playing in PARTIZAN, Austin Ramsay's Beam Saber, right here.
But before we get there, to keep your podcast feed warm, we'll be sharing the Road to Season Six, an anthology of one-shots played in different systems that will bridge the Twilight Mirage and PARTIZAN seasons. The Road to Season Six isn't necessary listening if you want to hop on board PARTIZAN in a couple of months, but it definitely provides some big picture context for the stakes and history that lead us to this new setting!
These episodes originated as Live at the Table games, available to watch live for all of our Patreon supporters, and if you want to check them out (unedited, without music) right now, you can actually do that! Just go to friendsatthetable.cash and become a $5 supporter to get access to all of the Live at the Table games, our bonus campaign, Bluff City, and both Tips at the Table and Drawing Maps, two shows that share our thoughts on playing and prepping games. For just $1, you can get years of "Clapcasts," collections of the all the chatter between us that happens before we get into the game proper.
(Speaking of Live at the Table, most of the past Live at the Table music is NOW AVAILABLE over on Jack's bandcamp. Go check it out!)
If you're already a patron, or if you're not looking for more podcast to listen to but want to support the show somehow, then guess what: We have TWO new pieces of merchandise to check out.
First, we've teamed up with Heart of the Deernicorn (creator of Fall of Magic and BFF!) and the incredible artist Simon Sweetman to make this Fall of Magic t-shirt, hoody, and print, featuring characters from our very own playthrough of that game!
Second, we've opened up our own online store at friendsatthetable.shop, where you can (FINALLY!) buy prints of the incredible Hieron cover art by artist Craig Sheldon! A single print is $15 USD, but you can get the entire set for just $35!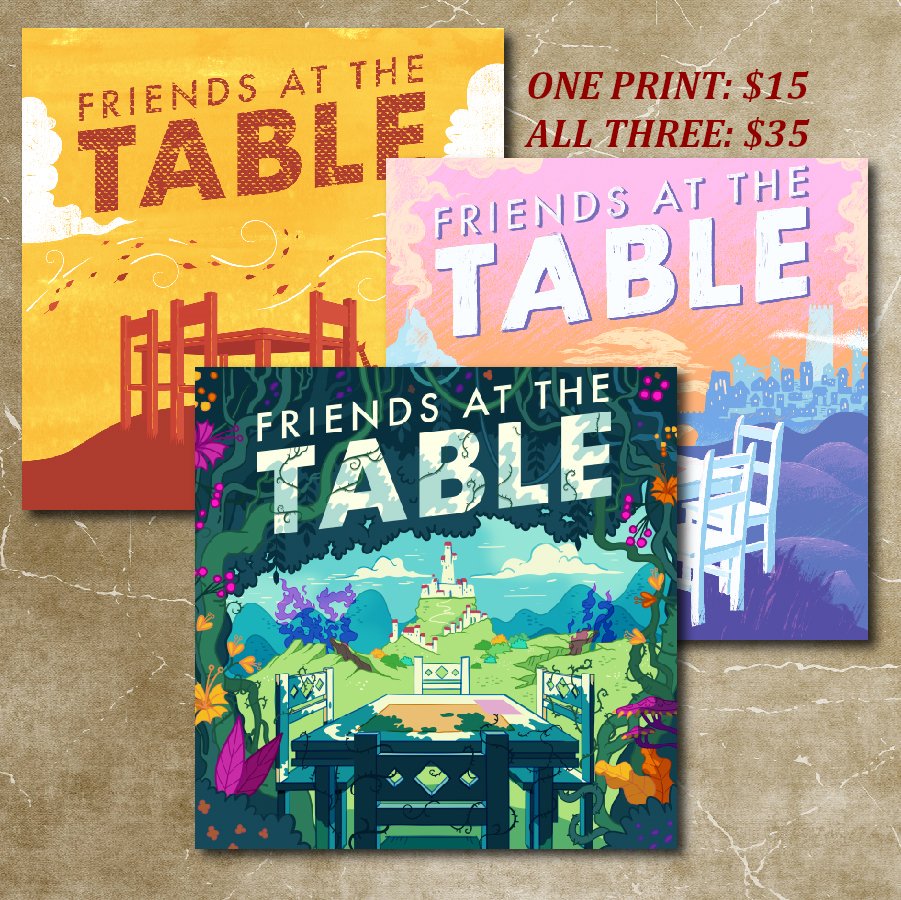 A transcription is available for this episode here.

A full list of completed transcriptions is available here. Our transcriptions are provided by a fan-organized paid transcription project. If you'd like to join, you can get more information at https://twitter.com/transcript_fatt. Thank you to all of our transcribers!!